© 2020 Ian Cameron - www.transientlight.co.uk


Thank you for looking. Now the boring bit!

I'm a Scottish landscape photographer and live in Lossiemouth which is located on the shores of the Moray Firth in the North East of Scotland. I licence a small collection of images for professional use in the world of publishing etc. and I'm happy to source and provide bespoke landscape images of the North, North East and West of Scotland as briefed by clients. I also exhibit locally and sell fine art images for interiors and collectors.

I'm a great believer in making photographs close to home and in visiting suitable locations again and again. Working digitally, and mostly in and around Moray, my landscape photography reflects my interest in 'the inner landscape' or, to what Eliot Porter is generally credited with first using, 'intimate landscape photography'. In other words I would rather be resolving a composition under soft light and exploring the design possibilities of perhaps a section of tree trunks in a wood than searching out a spectacular vista under spectacular light. However, Lossiemouth and the surrounding area is blessed with relatively mild weather and light and skies that can be spectacular and impossible for a photographer to ignore!
I have been able to provide or licensed images for various publishers, websites and art suppliers including: Harper Collins, Artko (John Lewis & Partners etc), The Geological Society of London, The BBC, The University of Edinburgh, Scottish Natural Heritage, Scottish Nature Photography and The Moray Council. A few years back I was interviewed as 'Featured Photographer' by Tim Parkin editor of the on-line photography magazine 'On Landscape' and for anyone interested that interview can be sourced here. The magazine also featured part of my project 'Clashach / Cove Bay' and this can be found here. I'm happy to have had varying award success in the Landscape Photographer of The Year competition, The Scottish Nature Photography Awards, The UK Wildlife Photography Competition and The National Countryside Photography Competition.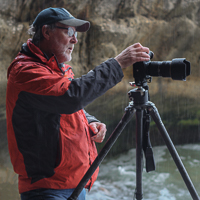 © Kimberly Saul 2019
Gear

Is camera choice and gear important? No I really don't think so just as long as it is fit for your purpose. A camera is only a tool after all. For anyone interested most of my images were made using Nikon cameras and lenses. Currently however I'm using Fujifilm equipment (GFX 50s) mounted on a RRS head which in turn is then mounted on a Gitzo tripod. I still use filters and currently I use the Haida M10 system and polariser along with various Haida Red Diamond filters.
If I can be of help in any photographic way or if you have a licencing query please use the contact page to get in touch and I'll do my best to get back to you as quickly as possible.
Nature First is built on seven core principles that help communicate how each of us can enjoy nature photography responsibly. The Seven Principles of Nature First Photography were developed to help educate and guide both professional and recreational photographers in sustainable, minimal impact practices that will help preserve nature's beautiful locations.

The Nature First Principles
Prioritize the well-being of nature over photography.
Educate yourself about the places you photograph.
Reflect on the possible impact of your actions.
Use discretion if sharing locations.
Know and follow rules and regulations.
Always follow the Leave No Trace principles and strive to leave places better than you found them.
Actively promote and educate others about these principles.
https://www.naturefirstphotography.org/en/principles